I heart Panic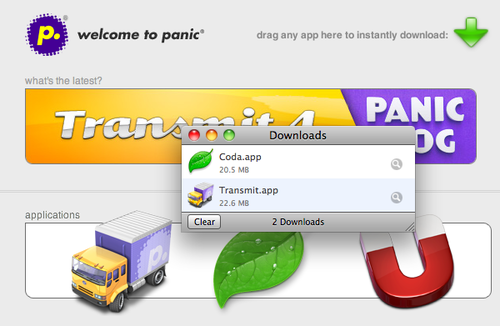 So here's an email I just sent off to the fine folks at Panic, the makers of "Shockingly Good Mac Software".
Thanks! <3
Hello Team Panic,
I wanted to thank you for making such good software, and being a really interesting, exciting & respectable company.
I don't think you'll remember our first encounter, but I do. It was a little over two years ago when I registered a copy of Transmit 3. I had been using the usual suspects of free FTP clients for a while and held some pretty naive views about what good software was worth.
To be really frank, I was used to pirating software and probably tried to find a crack for Transmit before the trial period was even half over.
But Transmit worked great, better than anything else in fact. Looking at your site it was clear (and still is) that you were (and still are) a small but really passionate group of people. So I decided to pay for some software and was glad that I did. When the receipt landed in my inbox the signature convinced me that, yeah, I did the right thing.
Thanks again for purchasing from us! We truly appreciate it!

Best, Cabel and Team Panic
When you introduced Coda it was a few weeks after I'd started at my current job. One of the miscellaneous "computer-person" tasks I took on was the redesign of our website. I was familiar with the Textwrangler-Safari-Transmit dance and the unity of Coda was very appealing to me. Once again I took full advantage of your generous trial period to pretty much create the entire site. Once the trial ended though, I went back to the old ways of app-switching and told myself I'd buy a license for Coda sooner or later.
Well, today I did just that. I also grabbed the 4.0 upgrade for Transmit.
It was a (very friendly, not spammy, very un-PR) email announcing Transmit 4.0 that reminded me to check in with what you've been working on lately. I read your blog for a little while, smiled at the Noby Noby t-shirts, and ultimately read the history of Audion. That's what won my heart, really.
So thanks for being company that I'm really happy to buy software from. Thanks for being the honest and transparent kind of company that makes me wonder "is there anything I could do at a company like that? I wish I worked there…" Thanks for being a company made out of people.
Sincerely,
-Jono Davis